Ethernet to RS232 converter
We are happy to propose now a solution for our customers who whant to connect FDS devices on their Ethernet network.
This is a very small Ethernet to RS232 converter box.
Mainly design for MLED display it can also be used to receive data from our TBox.
TBox-Radio new look!
This year our TBox-Radio 41 is comming with some litle changes.
Switch ON/Off is now present on the keypad.
Standardised USB C is replacing our previous mini USB connector.
GPS sensitivity has been improved
WINP-Relay
We have developed a new special firmware for the WINP Transmitter which allows us the possibility to use the WINP as a repeater to echo the radio transmission from either a WIRC photocell or WISG start gate. The WINP can be positioned in a more convenient location to receive the WIRC/WISG impulse and repeat to the TBox
WISG Start-Gate
Smart and compact, the automatic Wireless Start-Gate (WISG) is completing our wireless line of products. 
Needing to absorb significant shock and cope with low temperatures whilst integrating precise components and engineering the WISG has demanded significant time investment in the design process.
RCID self identification box
The competitor ID remote control RCID automates your training timing requirements by allowing competitors to self-identify themselves to our TBox and iOS app before they leave the start.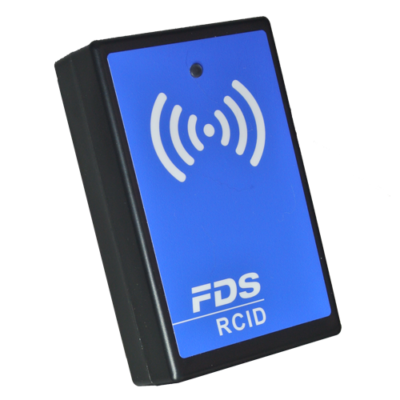 MLED with wireless control
Just released in March 2021, this MLED model comes with an embedded radio receiver module. Initially designed to work with our TBox-Radio model 41 and Smart-Chrono IOS app, it opens the door to a wide range of new possibilities.
This module share the same network as our WIRC photocells and receives its data from a TBox-Radio which is located ideally less than 100 meters away with a direct line of sight (A few hundred meters can be reached depending of environmental conditions and devices location).
We propose a standard 96x16cm display "MLED-3R" composed with 1 MLED-Radio (Master) and 2 regular MLED modules. Of course larger display can be assembled adding extra regular MLED modules.
Please contact your representative for more details about applications and possibilities.
Wireless MLED used as traffic lights
MLED-CTRL box
MLED LED panel Transformation
Following 12 months of research and development we are extremely pleased to present the MLED-CTRL Box.
Designed as an optional upgrade to our popular MLED modular LED display, MLED-CTRL transforms the standard LED panel into a multi-function intelligent display suitable for all types of sports and events.
With the integrated Bluetooth and our free iOS App you can quickly switch between modes.
The integrated GPS, Bluetooth, and Wireless Radio ensure simplicity, precision and reliability supporting optional modes for virtually any requirement including:
Start Clock, Speed Trap, Stopwatch, Lap Timer, Split Timer, Race Clock, Date / Time / Temperature, Lap Counter, Count-Down Timer, Count-Up Timer and more.
FIS & FEI Homologation
FDS is proud to annonce that our two majors products TBox-Radio and WIRC photocell are now homologated by the FIS and FEI
FIS: TBox-Radio : FDS.001T.20WIRC Photocells: FDS.L001.20
FEI: TBox-Radio : 2019001-1AWIRC Photocells: 2019001-1B/C
WebResults & Remote Timing
FDS is proud to launch its online live result service.
Named "WebResults", this service will allow customers to send online race results timed on our "tbox Chrono" and "Smart Chrono" IOS apps.
Race data and results can be post online at any moment during or at the end of the race.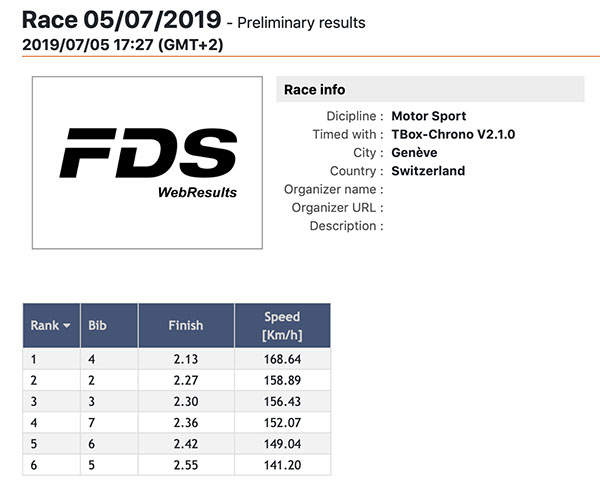 A subscription is required to have access to this service. In case of interest, please contact our team for further details about fees and conditions.
10.07.2023
New update : Display-Setup V3.0.0 (PC)
10.07.2023
New update : Firmware TBox-Radio (41) V2.2.0 / Firmware TBox-Radio (40) V2.10.0 / Firmware WIRC-RX V2.0.1
10.07.2023
New update : WINP Relay 22.0.1 / WINP Radio Tx V22.0.2
18.06.2023
New update : Firmware MLED V2.2.0 / Firmware MLED-CTRL V2.2.1
24.05.2023
New update : Firmware TBox-Radio (41) V2.1.0
23.05.2023
New update : Firmware MLED V2.1.1 / WINP Radio Tx V22.0.1 / TBox-Setup 3.3.1 (PC)
06.05.2023
New update : Firmware TBox-Standard V2.8.0 / Firmware TBox-Radio (40) V2.9.1 / TBox-Setup 3.3.0 (PC)
06.05.2023
New update : Disp-Setup 2.9.0 (PC)
22.04.2023
New update : Firmware MLED V2.0.1
New Firmware : WINP Radio Tx V22.0.0
02.04.2023
New update : Firmware TBox-Radio (41) V2.0.0 / Firmware TBox-Radio (40) V2.9.0 / TBox-Setup 3.2.0 (PC)
02.04.2023
New update : Firmware WIRC-RX V2.0.0 / Firmware WISG V2.0.0 / Firmware WINP V2.0.0
02.04.2023
New update : Firmware WINP Relay V20.0.0
02.04.2023
New update : Firmware MLED V2.0.0 / Firmware MLED-CTRL V2.2.0 / Display-Setup V2.8.0 (PC)
09.12.2022
New update : Display-Setup V2.6.0 (PC) / Firmware MLED-CTRL V2.0.0
13.11.2022
New update : Firmware TBox-Radio (41) V1.7.2 / Firmware TBox-Radio (40) V2.8.1 / TBox-Setup 3.1.0 (PC)
23.10.2022
New update : Firmware WISG V1.5.0 / Firmware WINP V1.5.0 / Firmware WIRC-RX V1.8.0
23.10.2022
New update : Firmware MLED V1.11.0 / Firmware TBox-Radio (41) V1.7.1 / Display-Setup V2.5.0 (PC)
29.06.2022
New update : Firmware MLED V1.10.0 / Display-Setup V2.4.2 (PC)
17.05.2022
New update : Firmware MLED V1.9.1 / Display-Setup V2.4.1 (PC)
15.04.2022
New update : Firmware TBox-Radio (41) V1.7.0 / Firmware MLED V1.9.0 / TBox-Setup 3.0.0 (PC) / Display-Setup V2.4.0 (PC)